In 2005, the International Congress of Cognitive Psychotherapy (ICCP) met in Göteborg, Sweden. Keynote speakers addressed the latest issues in CBT, researchers reported on empirical and theoretical findings, workshops presented state-of-the-art clinical practices, and students displayed their research and new ideas.
On June 13, the attendees were treated to a most amazing dialogue between the founder of Cognitive Therapy, Aaron T. Beck, and His Holiness the 14th Dalai Lama.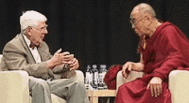 The topics were wide ranging and included discussions of: the human condition, thinking processes, common assumptions, the process of change, and anger. The Dalai Lama's intelligence coupled with his joyous demeanor offers a fascinating glimpse into the philosophical world of Buddhist thinking along with Dr. Beck's clear and concise conceptualizations of the human condition. Both reflect on their philosophies of change and note the similarities of their world views.
The filmed version of the conversation is divided into eleven separate clips ranging in length from about 3 to 11 minutes. The 90 minute "Meeting of the Minds: His Holiness the 14th Dalai Lama and Professor Aaron T. Beck" (in conversation) was filmed live and on location by the Center for Cognitive Psychotherapy and Education in Göteborg.
---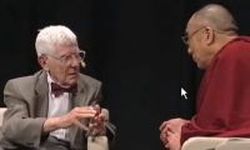 ICCP 2005, Goteborg, Sweden
SEE BELOW to view the 90 minute June 13, 2005 conversation.
The YouTube site does not list the focus of each segment so we have provided that list for you below. You may wish to copy it for reference when watching the video.
Time Stamps – Topic
​​0:00:00 – 0:02:47 Introduction
0:02:47 – 0:13:58 Negative Thoughts
0:13:59 – 0:25:48 Defining Negative, Positive, and Emotional Feelings
0:25:49 – 0:30:18 Views on Attachment, Attention, and Discontent
0:30:19 – 0:38:31 Pain and Suffering
0:38:32 – 0:50:11 Self-Centered and Society
0:50:12 – 0:57:39 Negative/Positive Imagery
0:57:40 – 1:06:58 Analytical Meditation
1:06:59 – 1:14:48 Secular Education of Modern Ethics
1:14:49 – 1:21:21 Environmental Factors and Society Influence Positive Thinking
1:21:22 – 1:30:06 Closing
On YouTube: A Meeting of the Minds